Working collaboratively and in partnership is one of the best tools we have as we work toward achieving the established cardiovascular risk reduction and stroke reduction goal set by the World Heart Federation to reduce deaths from non-communicable diseases 25% by 2025. The massive global toll of NCDs – including CVD and stroke – deepens poverty, impedes development, threatens health systems and is a major cause of disability and health inequality.
The Global Cardiovascular Nursing Leadership Forum is proud to lead the global CVD and stroke prevention effort with participation and support from the following distinguished partners and organizations.
To become a liaison organization, fill out our organizational sign up form.
United States
The American Heart Association is the nation's oldest and largest voluntary organization dedicated to fighting heart disease and stroke. Founded by six cardiologists in 1924, the organization now includes more than 22.5 million volunteers and supporters. The organization funds innovative research, fights for stronger public health policies, and provides critical tools and information to save and improve lives.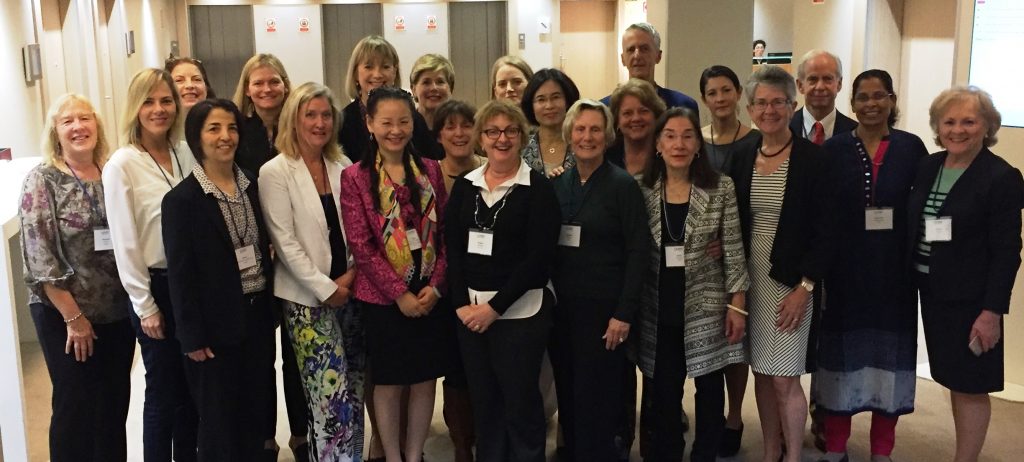 Africa
The African Heart Network (AHN) is a coalition of heart foundations, cardiac societies and individuals working in the field of cardiovascular disease (CVD) in Africa. The AHN is part of the global CVD community through membership of the World Heart Federation (WHF) and works towards the improvement of the health of Africans through better detection, treatment and prevention of CVD.
Betruit, Lebanon
AUBMC is an academic medical center dedicated to the passionate pursuit of improving the health of the community in Lebanon and the region through the delivery of exceptional and comprehensive quality care to our patients, excellence in education and training, and leadership in innovative research.
London, United Kingdom
C3 Collaborating for Health believes that only by working together can we make it easier to be healthy. C3 works with many different people and organisations to promote 3 behaviour changes: stopping smoking, eating a better diet (including avoiding the harmful use of alcohol) and increasing physical activity.
Canadian Council of Cardiovascular Nurses
The Canadian Council of Cardiovascular Nurses (CCCN) is a national, not-for-profit organization. Foundational to the organization are the pillars of health promotion and advocacy, professional education, research, and excellent membership services.
The Chilean Society of Cardiology and Cardiovascular Surgery is an affiliated member of the European Society of Cardiology.
The Association of Cardiovascular Nursing and Allied Professions was officially launched as the Council on Cardiovascular Nursing and Allied Professionals (CCNAP) in Barcelona on the 5 September 2006 by the European Society of Cardiology. Its mission is to promote excellence in cardiovascular nursing and allied professions through practice, education, and research.
The Egyptian Society of Cardiology aims to raise the level of scientific research, efficiency and knowledge of its members through various activities. It also aims to prevent and fight the different cardiovascular diseases in our community and raise the public awareness of the burden of such diseases.
The Health Policy Partnership (HPP) is a specialist health policy consultancy, working with organizations across the health spectrum in Europe and beyond. Building on a core of meticulous research, HPP collaborates with key stakeholders to produce compelling messages that act as a catalyst for change in health policy and practice. HPP's work in CVD includes groundbreaking projects on atrial fibrillation and heart failure.
Heart Health Association – Mauritius is a group of like-minded professionals from health, education and various other backgrounds. They advocate for and with people affected by heart diseases.
Her Heart is a global health prevention charity dedicated to raising awareness around heart disease in women. It's main emphasis is around health promotion, providing education, support, and key resources for women to reduce their risk, modify their lifestyles, and live well.
Beirut, Lebanon
The mission of the School of Nursing at AUB, since its establishment in 1905 as the first School of Nursing in the Middle East, remains current and pressing. Lebanon and the region are in desperate need for highly skilled professional nurses at all levels and we are strategically positioned to meet these challenges.
The Global Heart Hub is the first global non-profit alliance that brings together and supports the creation of patient groups from every country in the world to raise awareness of heart disease and improve lives. iHHub was founded as an alliance of patient organizations worldwide and works from the center of the global cardiovascular disease conversation to amplify the patient voice.
The International Council of Cardiovascular Prevention and Rehabilitation (ICCPR) was created in 2011 and 2012 by a group of experts dedicated to the promotion of cardiovascular disease prevention and cardiac rehabilitation for ALL. The ICCPR consists of leading experts from around the world. ICCPR is an Associate International Member of the World Heart Federation.
The International Council of Nurses (ICN) is a federation of more than 130 national nurses associations, representing the more than 27 million nurses worldwide. Founded in 1899, ICN is the world's first and widest reaching international organization for health professionals. Operated by nurses and leading nurses internationally, ICN works to ensure quality nursing care for all, sound health policies globally, the advancement of nursing knowledge, and the presence worldwide of a respected nursing profession and a competent and satisfied nursing workforce.
The Irish Association of Cardiac Rehabilitation was established in 1995 and is a multidisciplinary group under the auspices of the Irish Heart Foundation.
The aim of the Association is to provide a forum for education, communication, and research development among nurses working in the field of cardiovascular nursing. The objective of the Association is to keep members informed of new developments relating to cardiovascular disease and to promote and provide ongoing research and education for nurses. The objective is also to enhance the standards of nursing care and nursing research.
Japanese Cardiovascular Nurses Association
The Japanese Association of Cardiovascular Nursing (JACN) was established in 2004 as the first nurse-led organization focusing on cardiac health in Japan. Since then, it has been developed as a larger-scale organization; the JACN consists of around 1400 members, which include cardiovascular nurses, educators, and researchers in Japan. The aims of the JACN are 1) to work on the health problems that associate with cardiovascular diseases and stroke with all nation and health care providers; and 2) to develop the body of knowledge in cardiovascular nursing as well as to innovate and improve cardiovascular nursing practice in order to promote all level of heart health for the nation.
Makati City, Philippines
Providing exceptional health care services through integrated specialty centers that harness the combined expertise of various medical disciplines in treating particular conditions; specialty centers operated by highly qualified physicians, nursing, technical, and management staff.
Manipal, India
Manipal Academy of Higher Education (MAHE) has been distinguished for excellence in professional education and healthcare services in India. MAHE aims at academic excellence, promotion of research, and collaborations with prestigious academic institutions around the world.
Boston, MA
Seed Global Health teaches and trains physicians, nurses, and midwives to help save lives and improve health in Africa. We place volunteer health educators from the U.S. into medical and nursing teaching roles across 5 countries, building the capacity of future practitioners and their clinics, communities, and country health systems.
Geneva, Switzerland
The World Heart Federation leads the global fight for prevention, treatment, and control of CVD with a focus on low- and middle-income countries, via a united community of more than 200 member organizations and in partnership with the WHO to reach a 25% reduction in premature CVD mortality by 2025.
World Patients Alliance (WPA) is the umbrella organization of patients and patients' organizations around the globe. The World Patients Alliance provides the platform to empower and raise the patients' voice for the provision and access to safe, quality and affordable healthcare. We work toward ensuring patients have an active role to play in all the stages of healthcare that include planning, provision, monitoring, research and evaluation of health services. We represent patients from all world regions and across all disease areas.
Spain
The Spanish Association of Nursing in Cardiology (AEEC) is a non-profit organization found in 1977 and formed by nurses and male nurses that work in all the Cardiology fields.
Swiss Working Group on Cardiovascular Nursing and Allied Professions