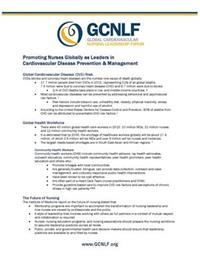 Nursing has a tremendous opportunity to help meet the established World Health Organization's global strategy to reduce the incidence, morbidity and mortality of cardiovascular diseases (CVD) by 25% by 2025. However, many nurses come from countries that do not recognize strong nursing leadership or from an institution that doesn't fully appreciate the value nurse leaders provide to the cardiovascular care team. To further the Global Cardiovascular Nursing Leadership Forum goals of empowering nurses worldwide on the science and practice of CVD prevention and championing a global nursing movement, we have developed a Guidance Document entitled "Promoting Nurses Globally as Leaders in Cardiovascular Disease Prevention & Management."

The GCNLF guidance document is designed to be used when talking with stakeholders, ministers of health, and CVD teams about the important role nurses can play in CVD prevention and management. It includes statements from leading health organizations and cites specific clinical studies that demonstrate that nurses involved in patient management have more success in meeting CVD prevention goals.

The Guidance Document was developed and approved by the GCNFL partners but was designed to be translated or changed to include country-specific citations or statements. In other words, the Guidance Document is a template that can be adapted and utilized how an individual or organization sees fit. We hope you find it useful!